GIA certified diamond specialists
We only select the best diamonds
Not only do we source our diamonds directly from the best suppliers in the UK and abroad, selecting only the finest diamonds, but we are one of the few jewellers in London to have our own in-house diamond cutter and polisher. 
GIA Trained Staff
As well as having our master goldsmith onsite, all of Daniel Christopher® staff are fully GIA trained and educated, with a wealth of experience in jewellery, and are happy to guide you through all stages of purchasing your jewellery item - from selecting the best diamond to suit you as an individual, to creating the perfect setting for your stone. Our staff are friendly, always happy to help should you have any questions, and will guide you through the whole process from start to finish. 
Because our dedicated team is always working onsite, we are able to offer a completely bespoke jewellery design service. From the initial designing stages through to the completed piece, Daniel Christopher can help you every step of the way.
Over Four Decades of Diamond Expertise
With decades of diamond experience under our belts you can be assured that your jewellery is in safe hands.
---
Unparalleled quality 
Made On-Site
All items are handmade at our on-site workshop, by highly trained and experienced goldsmiths and diamond setters. Because everything is made in-house, we are able to be in constant contact with your item as it goes through the production process, so we can be sure it is completed to the perfect standard.
Our onsite workshop also means that our master goldsmith is always on site to help with whatever queries might come our way, and is on hand for assessments for creating, repairing, or editing your jewellery.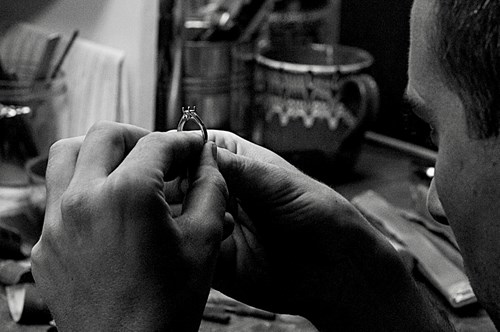 Built To Last
At Daniel Christopher®, customer satisfaction is our priority, and all of our jewellery is made with care, and with quality in mind. This is how we can be certain that you will always be thrilled with your finished piece.
The safety and security of our items is paramount; we make your jewellery so that it's both beautiful and built to last.
Thousands Of Happy Customers
Our customer reviews and testimonials attest to the quality of products and service that we offer. Don't just take our word for it - you can read our many reviews online. 
---
What you will get

​

10-Year Warranty

We are confident in all of our pieces and happily offer a 10-year warranty on all of our jewellery, so in the unlikely event that your item may need some TLC, you are completely covered for any repairs on manufacturing faults.

Honest And Fair Pricing

At Daniel Christopher®, we don't like to confuse you with multiple prices and sudden, magic discounts! We will always give you the best and most competitive pricing for our items that we can straight away, as well as giving you honest advice and opinions to make sure you're purchasing exactly what you want. Buying jewellery can be a daunting experience, especially if you're new to the diamond world and it is important to us that everyone feels relaxed and unhurried during their experience with Daniel Christopher.  

30-Day Money Back Guarantee

The 25% deposit which we require when you order your item is refundable at any time should you change your mind. Additionally, once you have collected your item, you have 30 days for a full money back guarantee, with no hidden restocking fees or charges. As long as the item is returned to us in the same condition that it was given to you, we are happy to assist any amendments or returns. With our master goldsmith on site, we are also able to discuss any changes or additions you might like for your jewellery item, and are always flexible to our customer's needs.

Central Hatton Garden Showroom

Our Hatton Garden based office is open 5 days a week, so we are always available should you like to speak to us in person. Additionally, you can feel free to call us, or send us an email to speak to one of our team.